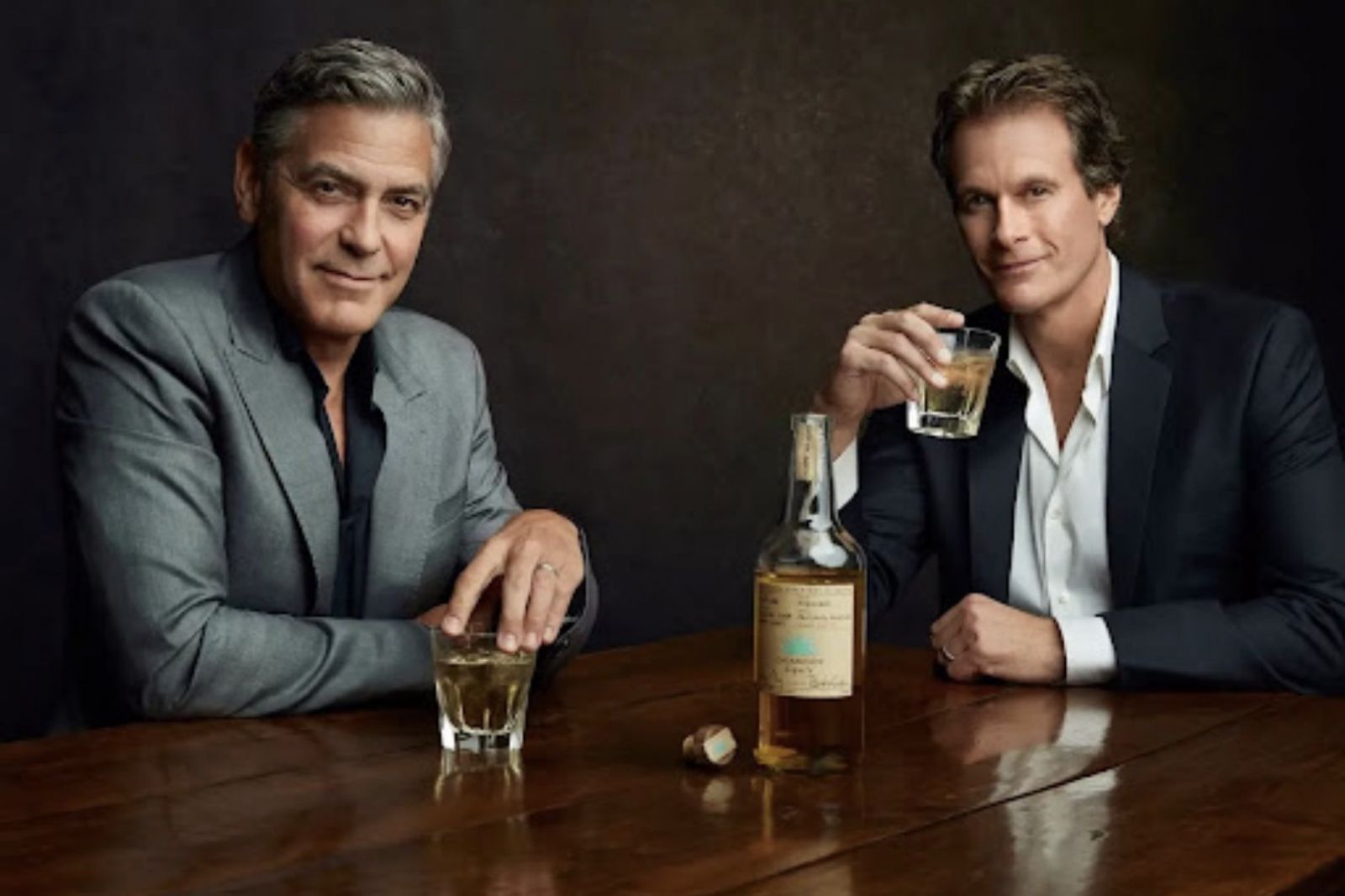 Should You Stock a Celebrity Drinks Brand?
09/07/2022 The very idea of a celebrity drinks brand will probably have those, particularly in the more conservative parts of the wine trade spluttering into their claret. However, it's a trend that's growing and very much here to stay.
While most Hollywood actors and celebrities are keen to endorse a wholesome, clean lifestyle, with heavily filtered Insta pictures showing them glowing with good health while glugging kale smoothies and spirulina shakes, there is a growing number who are putting their name to wine and other alcoholic drinks.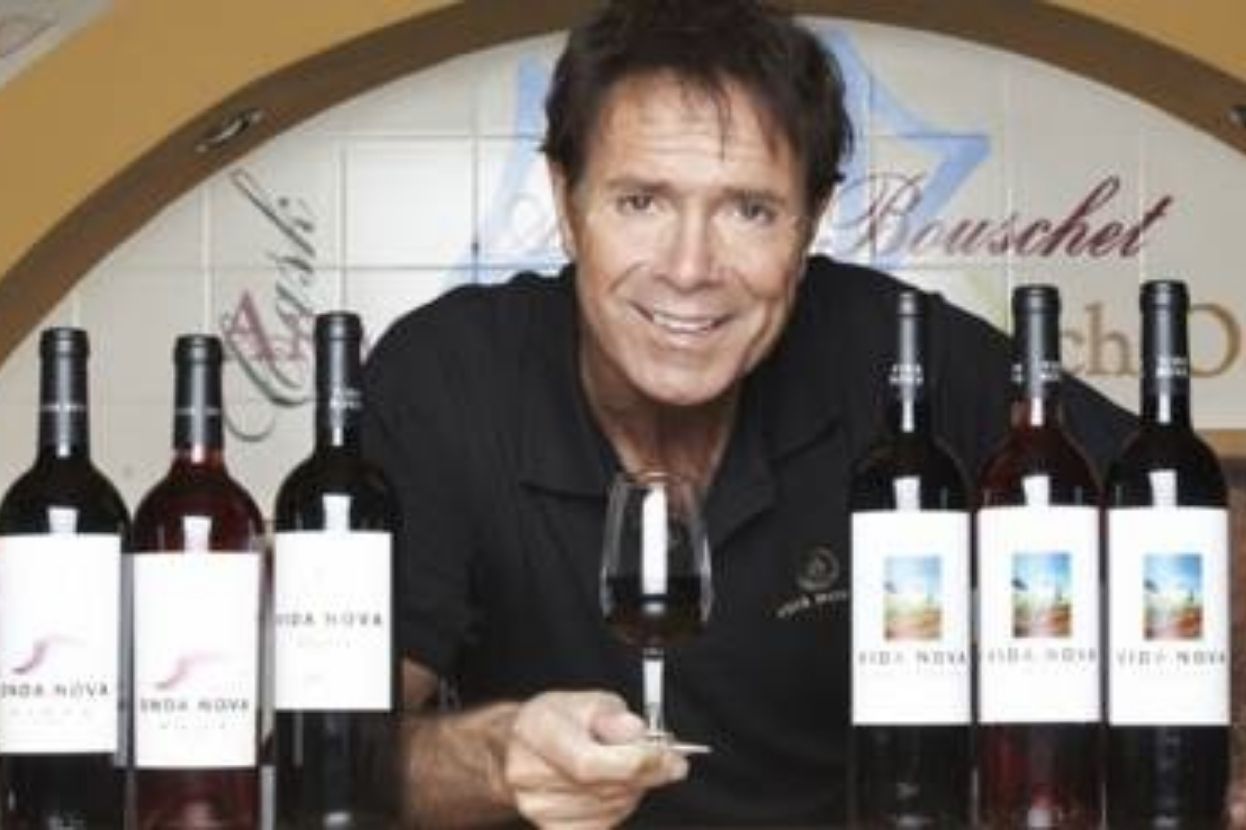 Sir Cliff Richard was one of the first celebs to put his name to a wine range.
One of the first celebrities to put their name to a wine is probably veteran crooner Cliff Richard, who blazed a trail for other wannabee celebrity winemakers with his Portuguese wine from his Adega do Cantor – or Winery of the Singer vineyard in the Algarve.
When others cottoned onto the fact that there was money to be made from muscling into the drinks world, they didn't waste much time in piling in, and now celebrity drinks brands are a huge business.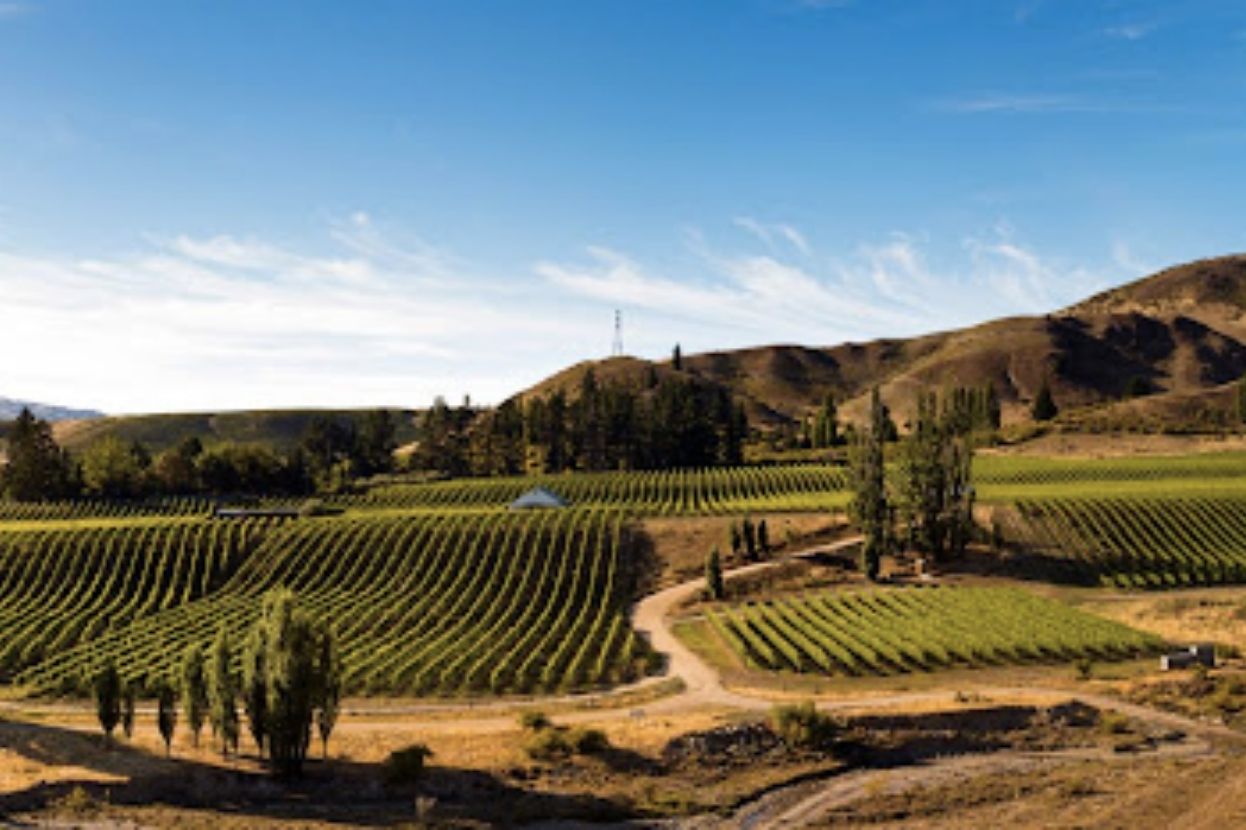 Sam Neill's latest acquisition, the Fusilier vineyard in Central Otago, New Zealand is dedicated solely to Pinot Noir production.
Actor Sam Neill swiftly followed Cliff's lead with his own range of New Zealand wines with his first vintage from his Two Paddocks winery being released in 1997 while Sting, former lead singer of the Police, has also ploughed millions into a stunning 16th-century 350-acre Tuscan estate, Tenuto il Palagio which produces four red wines named after some of the band's best-known hits including Message in a Bottle, a blend of 70% Sangiovese, 15% Merlot and 15% Syrah.
Bob Geldof is another name from the music industry who has muscled into the wine world. As chairman of the 8 miles Investment First, the former Boomtown Rats frontman has invested heavily in Awash Winery in Ethiopia, upgrading facilities and quality.
Meanwhile, the co-founder of legendary rock and roll band Fleetwood Mac, Mick Fleetwood chose an alternative route. While he doesn't own his own winery, he works closely with a number of different winemakers in California and Washington to produce his wine and markets them under the label Mick Fleetwood Private Cellar.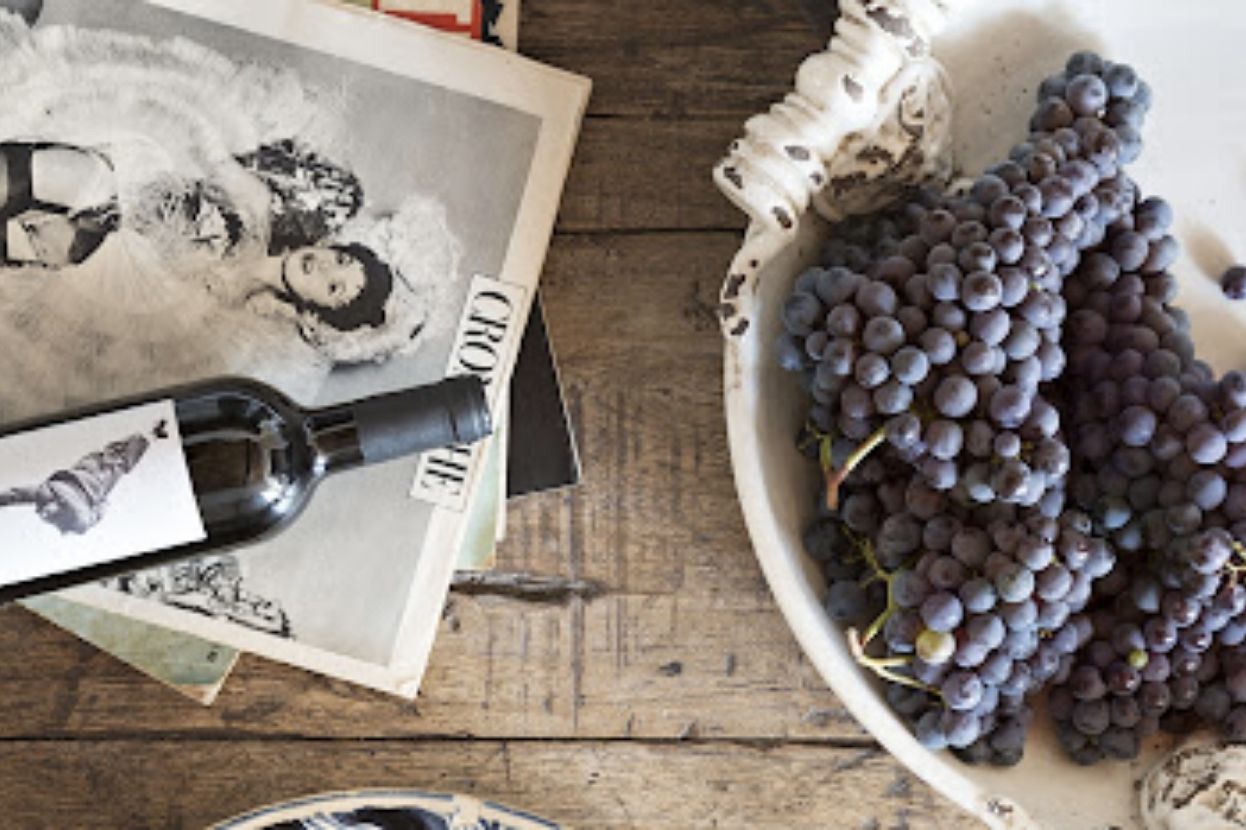 Wine from Sting's Tuscan vineyard
Pop princess Kylie is undoubtedly a legend in the music world, but in the past couple of years, she has become almost as well known for her phenomenally successful eponymous wine brand, launched in tandem with Benchmark Drinks. Within only ten months of hitting the UK supermarket shelves, her Prosecco rose became number one in the category, with her rose range selling more than five million bottles in just two years.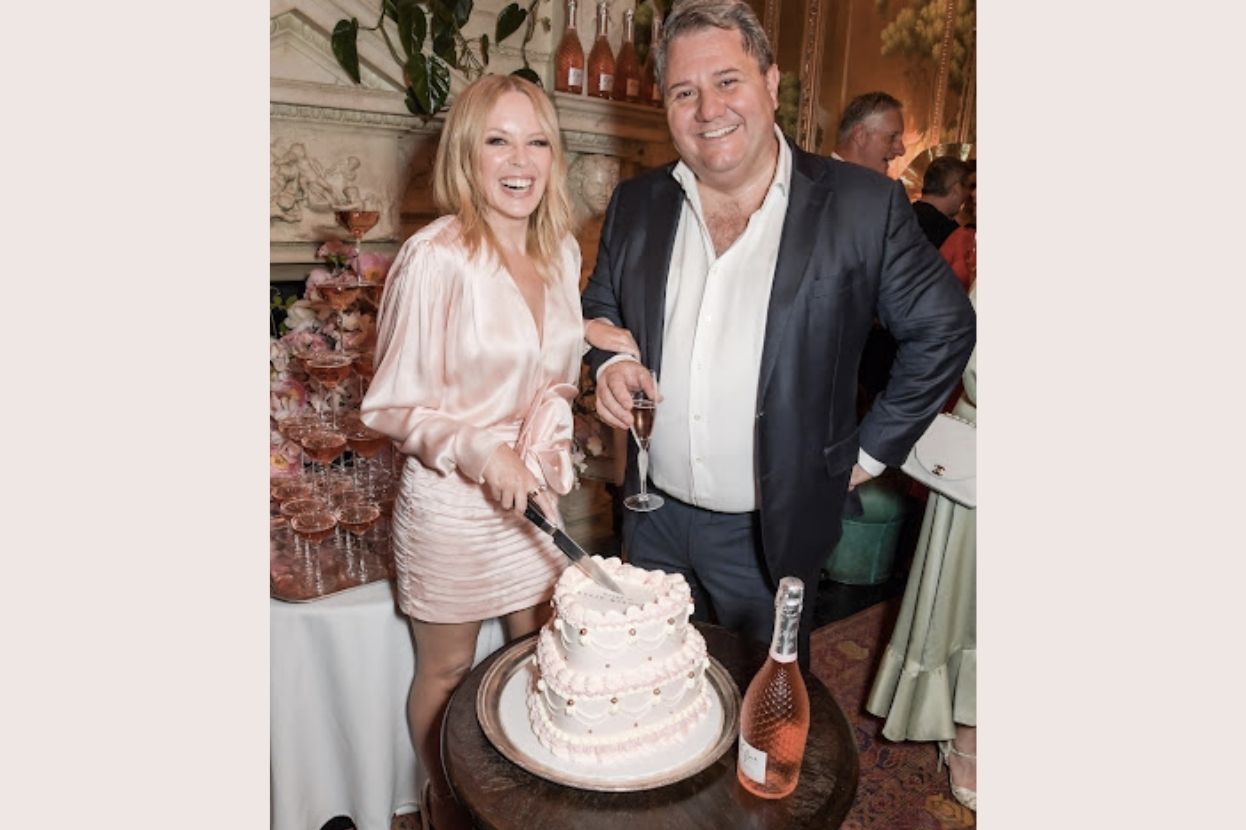 Kylie with Paul Schaafsma of Benchmark Drinks, the brains behind a number of celebrity brands.
The first wine in the range, a Provencal rose, was launched in May 2020, and followed by a Cotes de Provence rose, and a pink Prosecco. No stranger to brand building – Kylie already has a perfume, clothing line, and underwear range – but this is the first time she has collaborated on a wine brand.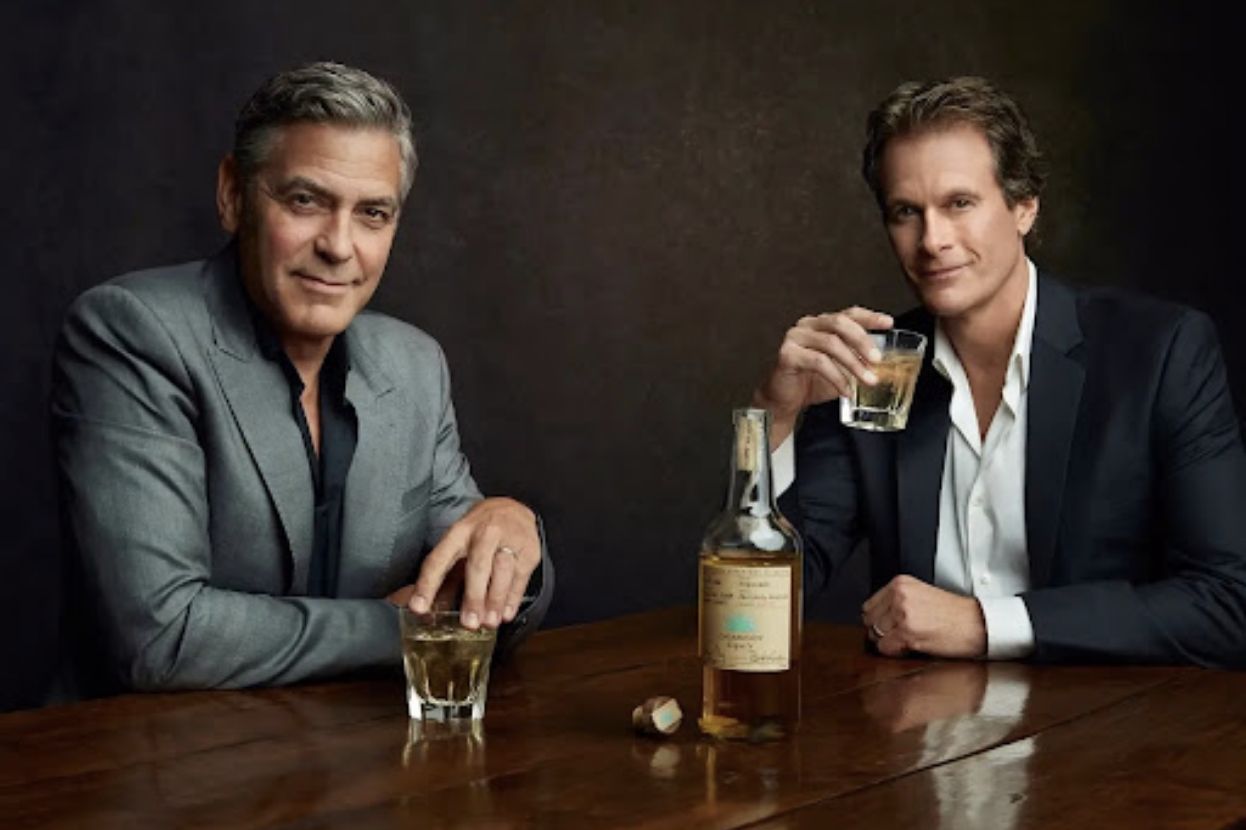 Casamigos Tequila co-founders George Clooney and Randy Berge have since sold the brand to Diageo for a staggering £79m.
Meanwhile, Hollywood heartthrob George Clooney has made a fortune with his Casamigos tequila, while Brad Pitt used to co-own celebrated winery Miraval with his ex-wife Angelina Jolie until their divorce when she bought out his share. And closer to home, Good Morning TV presenter Philip Schofield and chat show host Graham Norton, not to mention former cricketing legend Ian Botham have also got in on the act with their own wine ranges.
Even heavy metal band AC/DC, a name you might more readily associate with hard spirits than fine wine, have got in on the act, working with winemakers to produce their own signature range, including a "Highway to Hell" Cabernet Sauvignon and "Hells Bells", a Sauvignon Blanc.
So while more and more celebrities pile onto the drinks bandwagon, is it actually worth it for retailers to stock these high-profile brands? According to Tom Harvey, co-founder of YesMore drinks marketing agency, one of the biggest advantages of a celebrity drinks brand is they already come as a well-established brand with widespread recognition. "A celebrity brand is, in many ways, the same as any other – except the pre-existing audience is large and brand loyal already," he told Drinks Retailing, adding that the time lag between consumer awareness of a brand to actual purchase is much speedier compared to other start-up businesses.
However, one big problem with celebrity-backed brands is that they are a bit Marmite – and can be extremely polarising. While some consumers may absolutely love them, others are sure to loathe them so it's important to choose wisely and ensure that celebrity drinks are compliant with ASA and Portman Group rules for influencer marketing.
Another factor to consider is that not all celebrities are well-behaved, squeaky-clean brand ambassadors, so retailers have to be prepared to react quickly to both good and bad news stories about the particular celeb in question.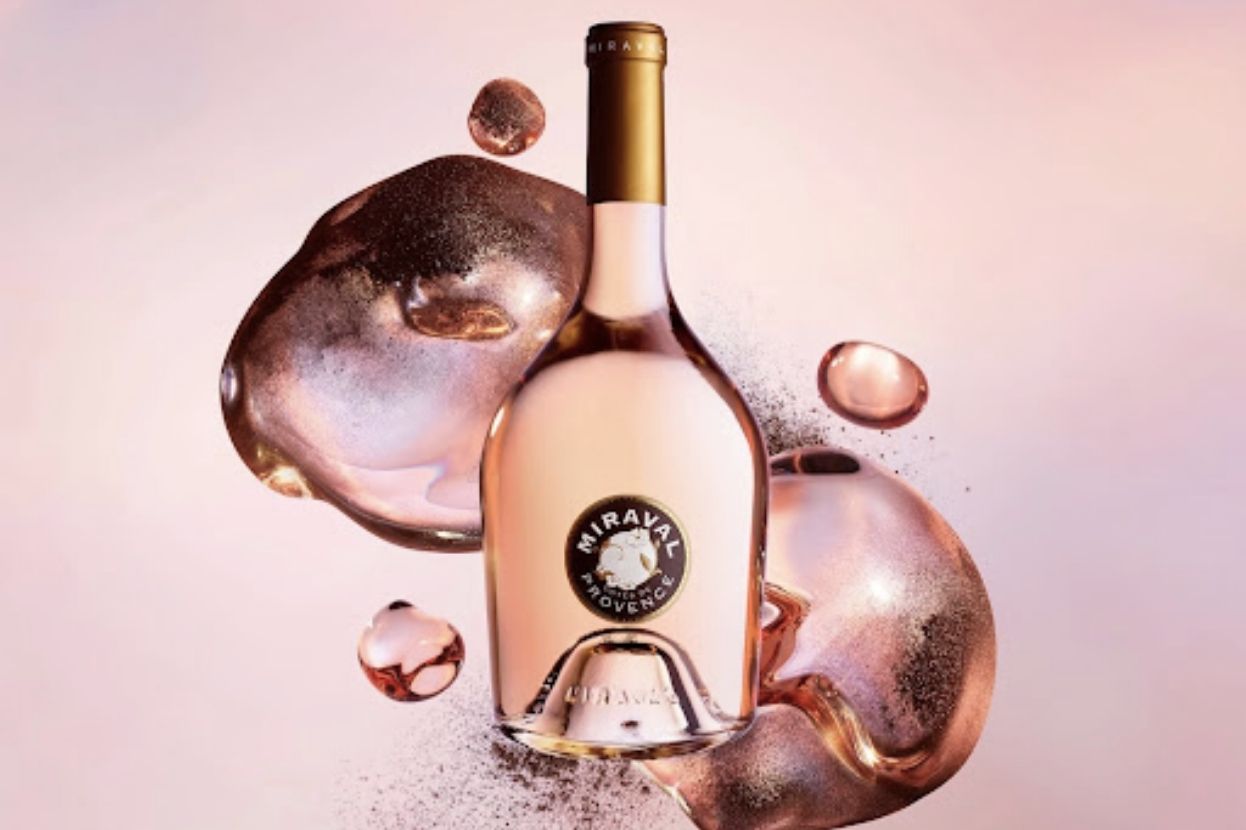 Brad Pitt and Angelina Jolie's collaboration with Miraval has undoubtedly paid off for the hugely successful brand.
It's also worth considering just how involved the celebrity actually is behind the brand. Does the brand already have a respected heritage behind it, as is the case with Miraval and Brad Pitt and Angelina Jolie with minimal input from them as silent partners? Or does it only exist because of the celebrity? And is that celebrity prepared to share the brand on social media, and star in the advertising, as Ryan Reynolds did with Aviation Gin while pulling in all his celeb mates at the same time?
Paul Schaafsma drinks supremo who heads up Benchmark Drinks, the company behind Kylie, Botham, and Norton's wines is keen to stress the value that a celebrity can bring to a drinks brand. "When we started Benchmark Drinks we knew we had to find the white space with retailers," he told The Buyer. "That meant looking at the wine sector from a consumer's point of view," pointing out that the vast majority of consumers will never meet a winemaker or go to a vineyard in their lives. "Their only experience of wine is going down a supermarket aisle. What can we do to make a wine that can make them feel as comfortable as possible? That's where we felt a celebrity can help give them that trust, that familiarity, that comfort to pick a bottle off a shelf," he said.
[[relatedPurchasesItems-15]]
However, Schaafsma concedes that a few years ago celebrity wine brands were not particularly well regarded. "That's why we won't get involved unless the personality is completely committed and just as obsessed with the quality of the wine and the consumer as we are."
And if you can match the pulling power of the celeb with quality wine, then you have a winner on your hands, he added. Clearly different personalities appeal to different consumer demographics, with middle-aged men more likely to be attracted to wine by Ian Botham while Kylie's appeal is probably broader, stretching from 20 – 70 years old, according to Schaafsma.
And there can be more direct ways for retailers to benefit from celebrity drinks. While Kylie is unlikely to turn up outside your local Morrisons to promote her brand, you might get Ian Botham to do just that.