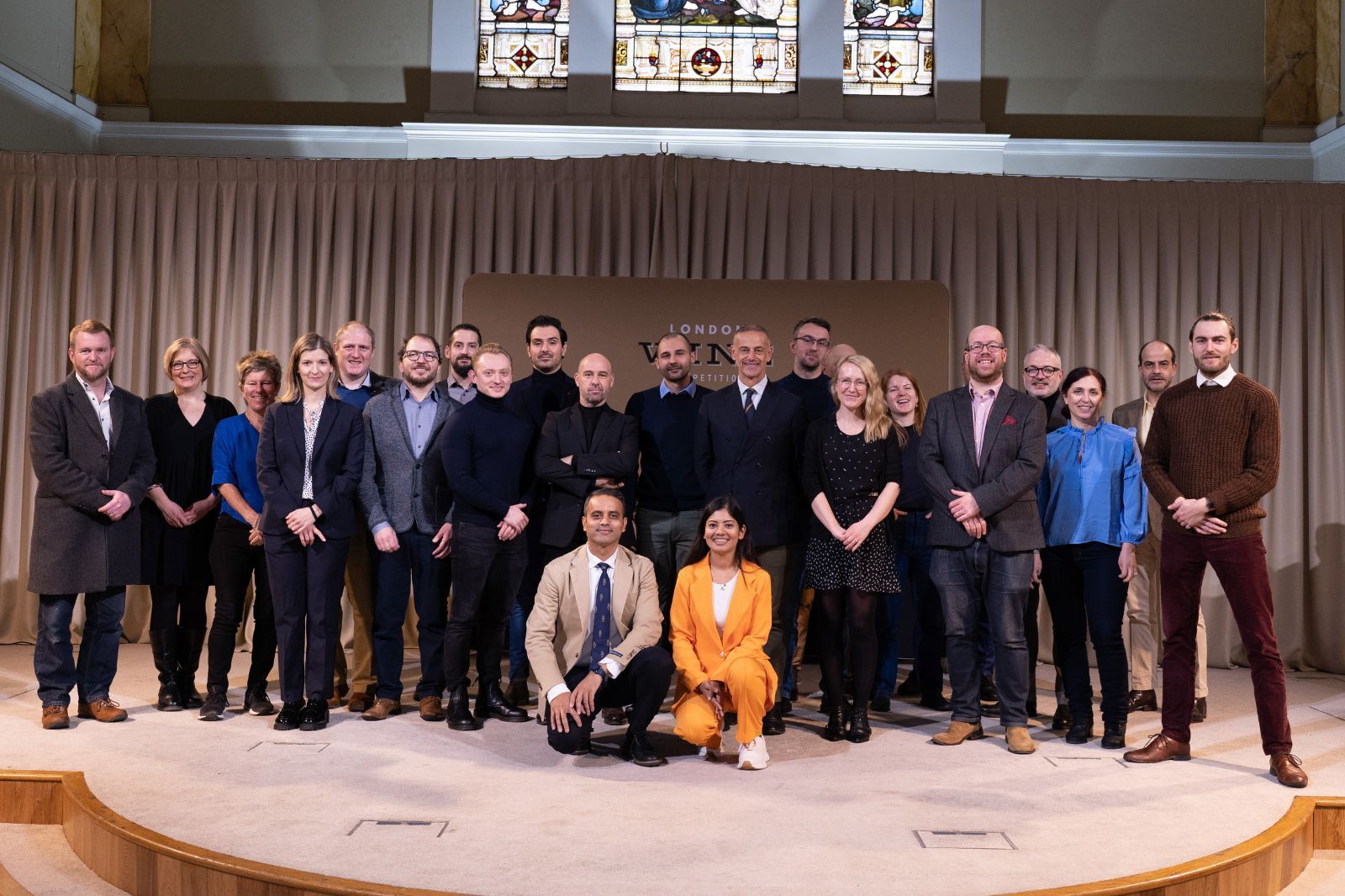 London Wine Competition
27/03/2023 It's that time of year again when judging for the LWC kicks off, and with the tasting glasses lined up & wines uncorked the judges are ready for two days at the coalface of assessing the many entrants for this year's competition.
Taking place this week in the hushed atmosphere of St Mary's Church in London's Marylebone, this year's crack team of highly-regarded wine industry professionals are sniffing, swirling, and tasting their way through a vast array of wines from most of the world's key producing regions and companies. Helen Arnold went along on the first day to find out what the judges thought of the wines as well as the judging experience.
The esteemed group includes industry top hitters such as leading sommeliers Vincenzo Arnese of the Dorchester, Federico Antonio Moccia of 67 Pall Mall, Jonny Tyson Beecher from La Trompette, and Matteo Montone MS of Edition. And the retail and off-trade side of the drinks business is also well represented on the judging panel by a number of key players including Svetolslav Manolev of Berkmann Wine Cellars, Bryan Rodriguez, junior wine and spirit buyer for Harvey Nichols, Jeraboam's wine director Peter Mitchell MW, and Chiara Sieni of independent merchant Rise & Vine.
Since its inauguration in 2018, the Competition, organised by US-based global media and B2B networking platform Beverage Trade Network, has grown in both size and prestige, and garnered increased recognition around the world, with the numbers speaking for themselves; this year seeing 1400 entrants from around the globe vying for the much-coveted Gold, Silver, and Bronze awards, compared to 1300 last year, which itself was a near 20% increase on the previous year.
And according to Sid Patel, CEO of Beverage Trade Network, this year's relatively small, but nonetheless significant uplift in entrants is even more impressive when the prevailing economic climate is taken into consideration. "Companies are cutting back and slashing costs where necessary, and are holding off on launching new products," he explains. "As a result, there are fewer products being entered into competitions, so the fact we have seen more entrants this year given the current financial climate is a testament to the credentials of the competition."
While there may be fewer new products entering the market, the judges were unanimous in their view that the quality of the wines entered was just getting better and better. "This is the third time I have judged the competition and the entries that I saw were generally of a higher standard than previously," confirms Jeraboam's Mitchell, who was particularly impressed by a couple of McLaren Vale Shiraz and Coonawarra Cabernets, as well as some of the Moldovan entries. "Most of the entries are sound and well made, and many are high quality, but for a top award a wine needs that edge of excitement, complexity, and perfect balance," he says, adding that what he is really looking for is interesting wines. "That could be because of where it comes from, the grapes used, or the story behind the producer. What I have no personal interest in is safe, factory-made wine"
Harvey Nichols' Rodriguez says that of the white wines he has tasted to date, those from Greece were the most interesting. "The only problem is that wines like these are not very well known amongst consumers, so they need pushing. You might drink a Greek wine on holiday, but when you get home are you going to order it in a restaurant?" he says, adding that it all boils down to education, something that Harvey Nichols is working on, hosting a number of supplier-led events and tastings. "It's difficult to find wines in that sweet spot between £14 to £18, but I am impressed by the selection I have tasted today. I think Greek wines have lots of potential."
Fellow judge Chiara Sieni who buys for the independent wine merchant Rise and Vine in London's Kensal Rise was equally taken with the Greek wines she tasted, as well as some premium Tuscan wines. "I've come across a few wines today I would consider listing, including an Italian red, Pietra di Elsa, which offers amazing value for money at only £8," she enthuses. Reiterating Rodriguez's view, she agrees that tracking down good quality wines in the £14 - £18 mid-price point is challenging, but believes some of the wines on offer at the competition would fit the bill perfectly for Rise and Vine's customer base.
The judges were also enthusiastic about the criteria used in the London Competition's assessment process, whereby a wine's marketability and packaging are taken into consideration, and not just the liquid in the bottle. First-time judge Sara Muirhead MW, described it as a "novel" approach, adding: " I think the LWC results should be very helpful to the wine producers who entered. It's great if you have made a fantastic wine, but if the price point or packaging doesn't match the quality then it's unlikely to sell well."
Harvey Nichols' Rodriguez also favours including packaging within the judging criteria. "When it comes to buying wine, the visual aspect is really important, as you buy with your eyes first and foremost," he says, adding this is particularly relevant when a customer is less well-versed in wine. "I think it's a great idea to think about the packaging, especially for those customers who are less clued up about wine. They will find a bottle on the shelf and if the label is good and the price is right and they can afford it then they might go for it. We have found it's the same with spirits - most people buy because of the label. If it's pretty and colourful then they are more likely to buy it." A good label, he believes, includes something that stands out on the shelf, that is bright and eye-catching and that gives some information about what's in the bottle.
"At Harvey Nichols, we are a fashion-led company where people come for their Gucci and Prada, and it's the same with the wine – they want to see the big brand names such as Dom Perignon and Penfolds. But if you are good at your job you can steer them towards something a bit different. It's the brand names that get the customers through the doors, but once they are in store you can get them to try something different."
[[relatedPurchasesItems-50]]
Peter Mitchell also believes that including the packaging element within the judging criteria is a logical move. "Packaging is a key part of why a wine is selected on the high street, so it makes sense to mark that," he says. "Obviously packaging is highly subjective, but having several judges helps that somewhat."
While the competition offers suppliers, retailers, and importers a great means to discover previously unheard-of wines, it also provides an unparalleled opportunity for wine producers to get their products under the noses of some of the most influential people in the wine world. "Getting your products in front of a panel of experts like today is really tough but for any brand to receive this kind of constructive feedback without having to pay an absolute fortune is very worthwhile," points out Rodriguez.
Sieni of Rise and Wine agrees that for any wine to come under the such close scrutiny of a team of industry professionals is a golden opportunity for a brand. "It is great for brands to participate in as it raises their profile and brings them to the attention of the professionals. And awards such as these give customers confidence and assurance that a wine they are buying has the stamp of approval from an expert lineup of judges, and makes it easier for us to sell."
The judges were also approving of the smooth running of the event, and how slick the operation was. "I was most impressed by the way the competition was run," confirms Muirhead. "It is held in a great venue and the team of servers was most professional. And the sample glasses were clearly marked and once the team had assessed each flight for quality and value a bottle of each wine was displayed so that the packaging could be assessed."
Rodriguez concurred with her view, applauding the general organization and the scoring method within the different categories. "The way it is set up is excellent, it's very well organized, and the scoring works well," he says.