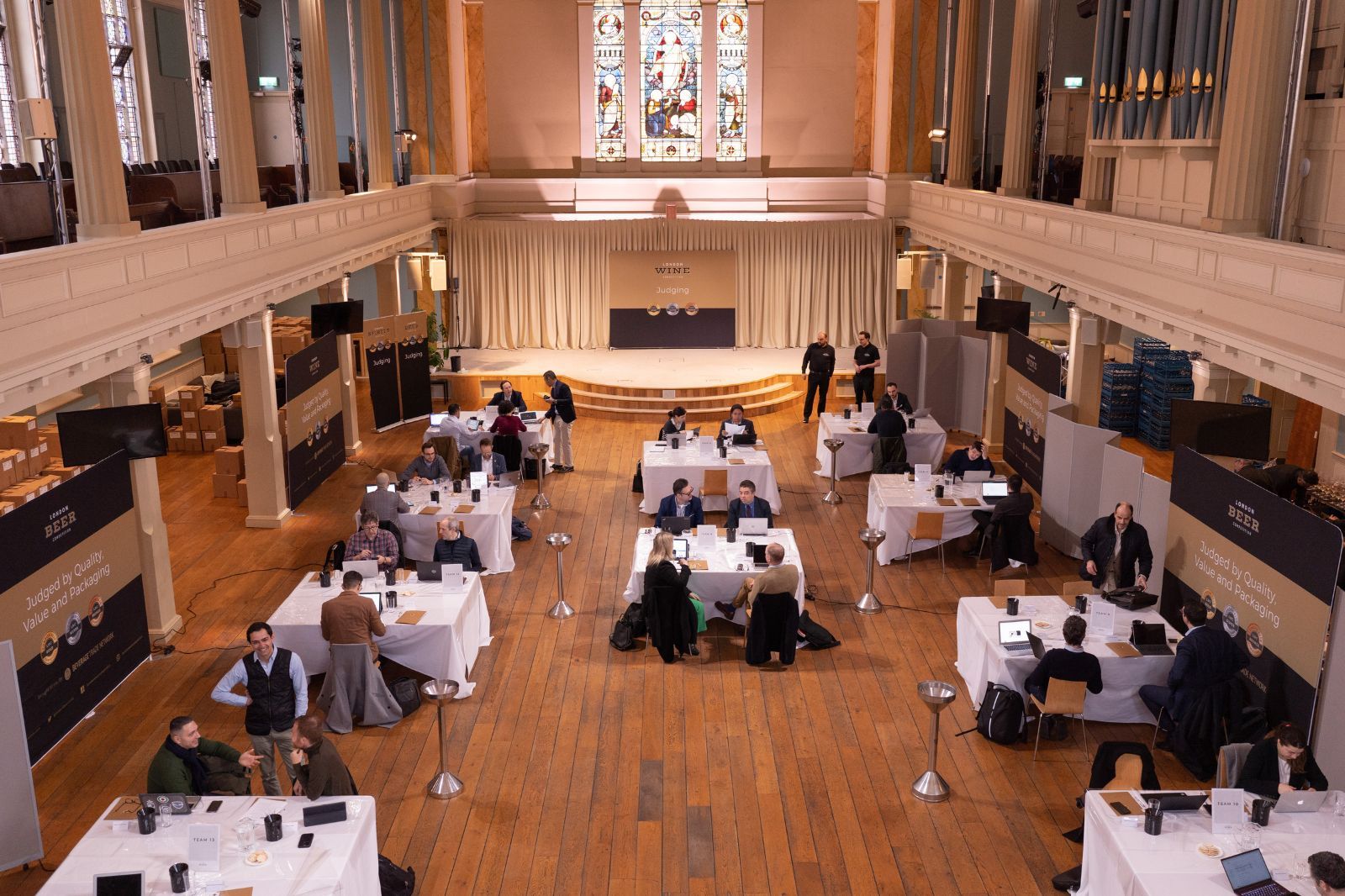 2023 London Wine Competition Winners Announced
13/04/2023 The results of the 2023 London Wine Competition are out.
The results of the London Wine Competition are out. This is a competition where wines are judged for end consumers. Wines are rated with three main criteria: quality, value, and packaging. To be a medal winner, wines must show a rating in all three factors with the most weightage on quality.
There were 1300 wines submitted in this year's competition from more than 32 countries. Shiraz, Cabernet Sauvignon, and Chardonnay were the top 3 varietals that entered the 2023 competition and Australia, Spain, and Portugal were the top 3 countries to enter wines.
Some of the country's wine trade buyers, sommeliers, master sommeliers, and masters of wine gathered at the St Mary's Church in London's Marylebone, sniffing, swirling, and spitting their way through a vast array of wines, as they judging of the London Wine Competition reaches a peak.
From Greek Assyrkito to Croatian Plavic Mali, and Georgian Quervi to better-known classic grape varietals from the Old World, this year's LWC judges were faced with a huge range of styles and varieties from most of the world's wine-producing regions to assess and appraise. But despite the enormity of the task, their combined years of expertise and professionalism stood them in good stead and saw them efficiently sort the wheat from the chaff and winnow out the very best in each category.
Comprising a line-up of some of the most esteemed and highly-regarded professionals in the hospitality sector, the judging panel who are selected not just for their expert noses, but also for having direct current responsibility for wine buying, including La Trompette's Jonny Tyson Beecher, Federico Antonio Moccia from 67 pall mall and Hakkasan's head of wines Christopher Delalonde MS, as well as a clutch of Masters of Wine, amongst them Beans Boughton, Sara Muirhead, Claire Blackler, and Peter Mitchell MW.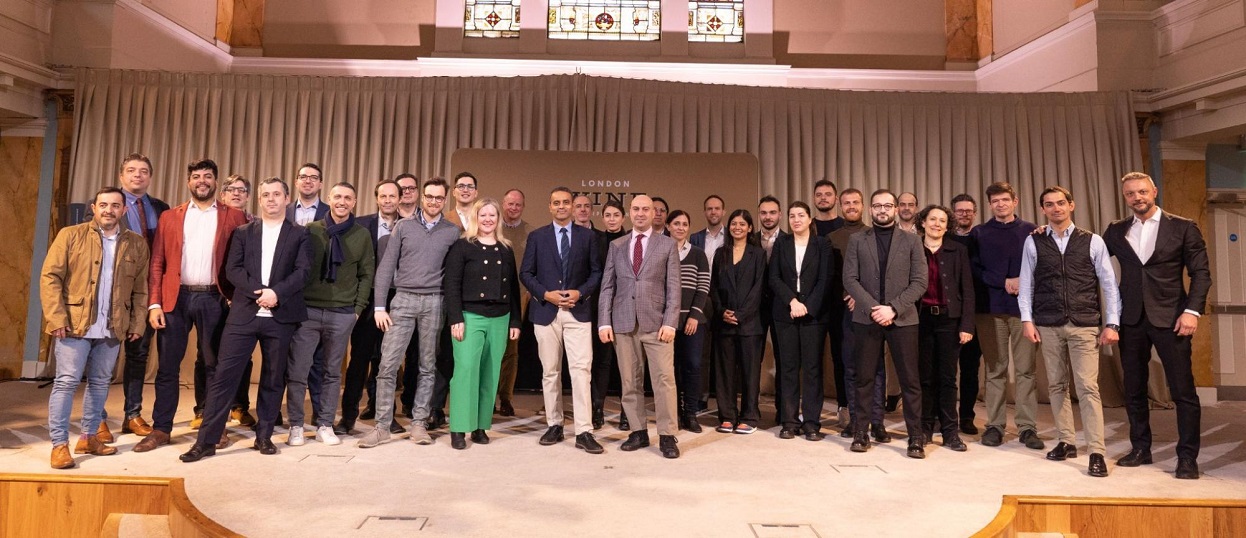 Judges of the 2023 London Wine Competition
Despite budgets being slashed and NPD being put on ice in many cases, the judges deemed the quality of the entrants to be largely improved on the previous year. "This is the third time I have judged the competition and the entries that I saw were generally of a higher standard than previously," confirmed Jeraboam's wine director Peter Mitchell MW who declared himself particularly impressed by a couple of McLaren Vale Shirazes and Coonawarra Cabernets, as well as some of the Moldovan entries. "Most of the entries are sound and well made, and many are high quality, but for a top award a wine needs that edge of excitement, complexity, and perfect balance," he said, adding that what he is really looking for is interesting wines. "That could be because of where it comes from, the grapes used, or the story behind the producer. What I have no personal interest in is safe, factory-made wine"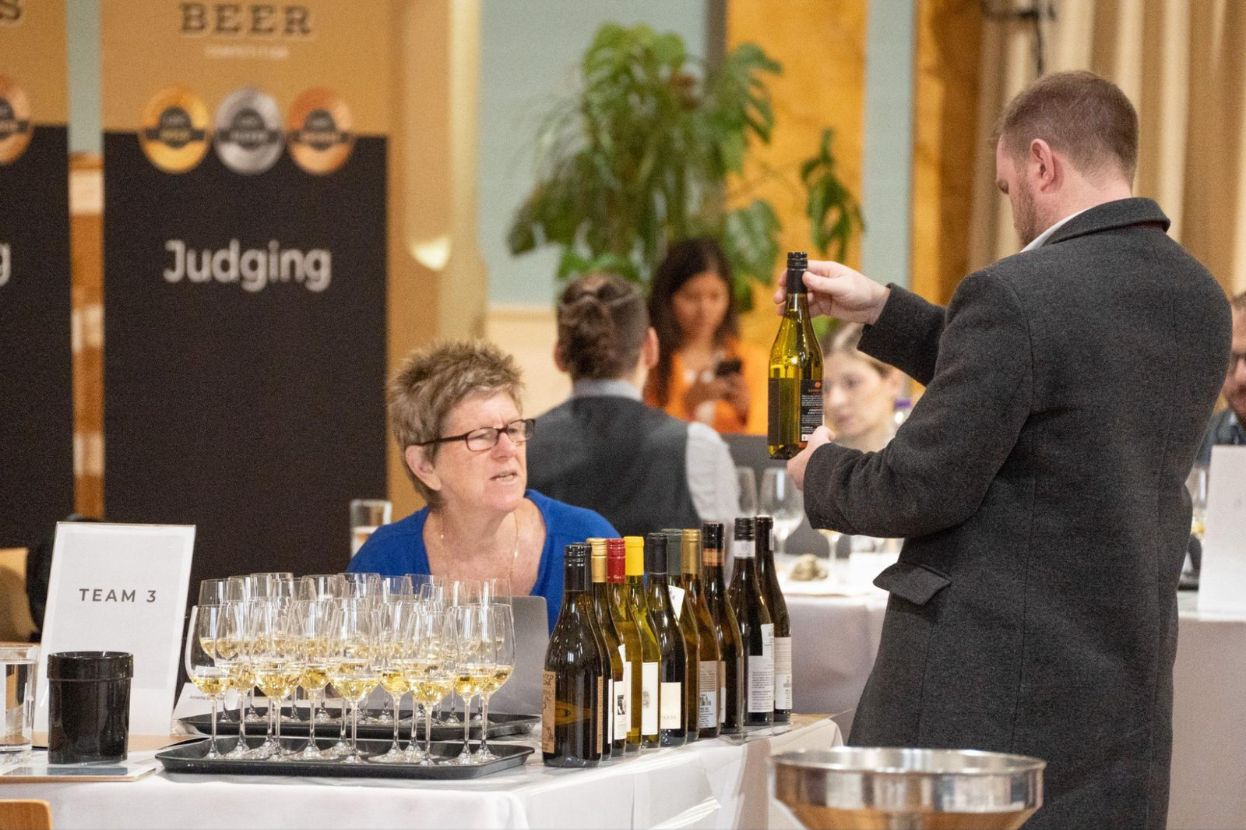 Annette Scarfe MW, Judte at London Wine Competition. Products are also evaluated by Package.
First-time judge Sara Muirhead said she unearthed "some great quality wines at various price levels", with a Moldovan Traminer being a particular highlight. "It was well made, elegant, and aromatic," she says. "In a different flight of wines, it was good to see that one of the reds from Southern Italy was packaged in a paper bottle. Our team gave it a very high score for the packaging. I believe the highest-scoring round for our team was the Western Australia Cabernet Sauvignon flight. There were some great wines, including one which was ten years old." Fellow judge Andre Luis Martins, who was until recently head sommelier at the Guards and Cavalry Club before taking over as general manager at soon-to-be-opened Covent Garden wine bar Story Cellar, was also excited by some new discoveries. "There were a couple of interesting wines from Kosovo and Albania as well as some good Belgian sparkling wines," he said. "I think in some of these up-and-coming regions the quality is increasing hugely. If you look at Croatia now, for example, it is pretty well established, and Georgia too is coming through. In fact, most Eastern European countries are getting better as they fine-tune their wines, and the regional grape varietals have lots of potentials."
Closer to home, and it was an English red wine that had sparked interest in La Trompette's assistant head sommelier Jonny Tyson Beecher. "We had a fantastic Pinot Noir from Lyme Bay in Devon," he says. "English wineries are getting better and are increasingly focusing on better quality varietals such as Pinot Noir. Some producers are getting very good quality out of them but they remain a bit of a niche with lots of very ordinary hybrids and the price is still challenging, making it difficult for them to compete with other wines of similar quality, such as a £10 Spanish wine." He also highly rated Clare Valley Riesling, which he describes as "a good quality wine for a not great deal of money."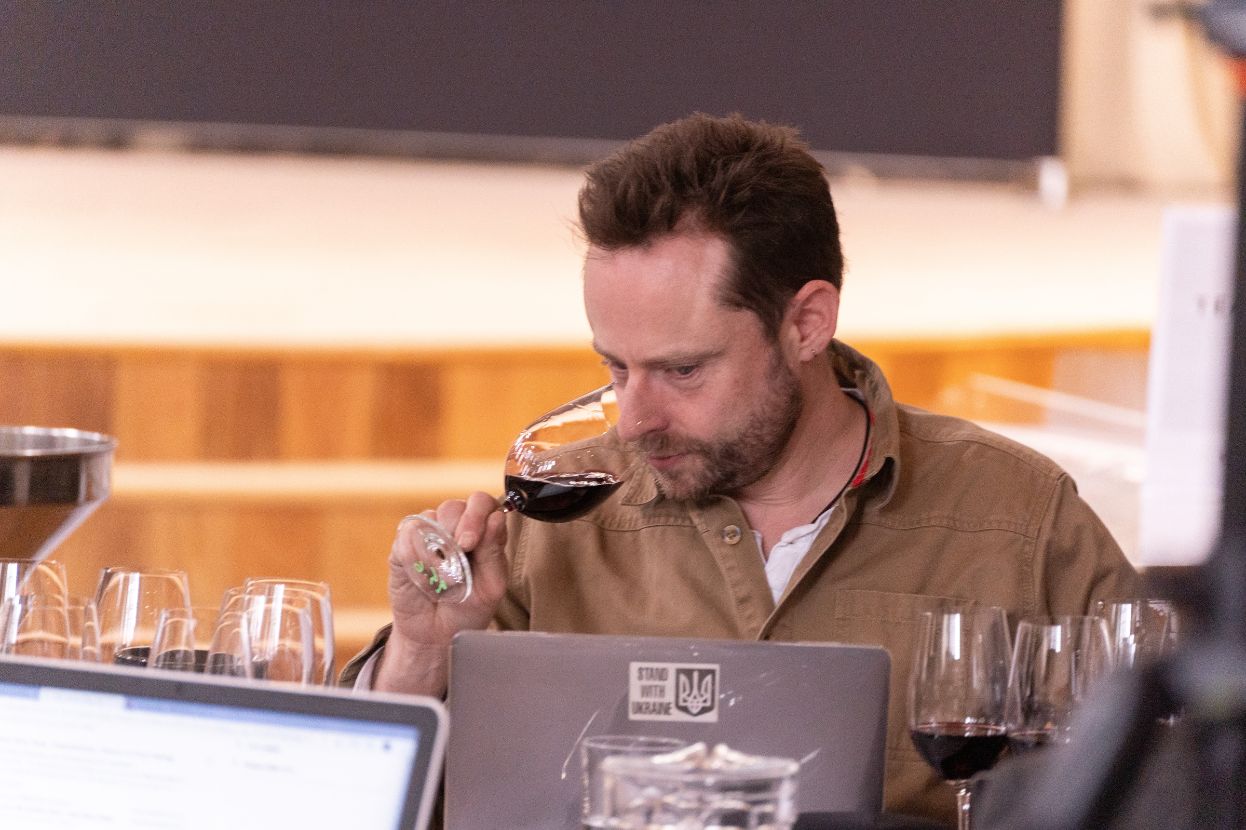 Jonny Tyson Beecher DipWSET, London Wine Competition Judge.
While the judges were enthusing over their new finds, they were also in favour of the fact that the judging process includes taking into consideration not just the wine itself but also the packaging and marketability. Muirhead describes this as a "novel approach" for a competition, with the caveat: "It's great if you have made a fantastic wine, but if the price point or packaging doesn't match the quality then it's unlikely to sell well." Ultimately, she says that while the packaging is important, for her, quality is paramount. "The quality of the wine is key. So, a wine that is well made and well balanced, at a price point appropriate to its quality, and packaged in an appealing way with minimal adverse implications for the environment."
The top winners at the 2023 London Wine Competition are: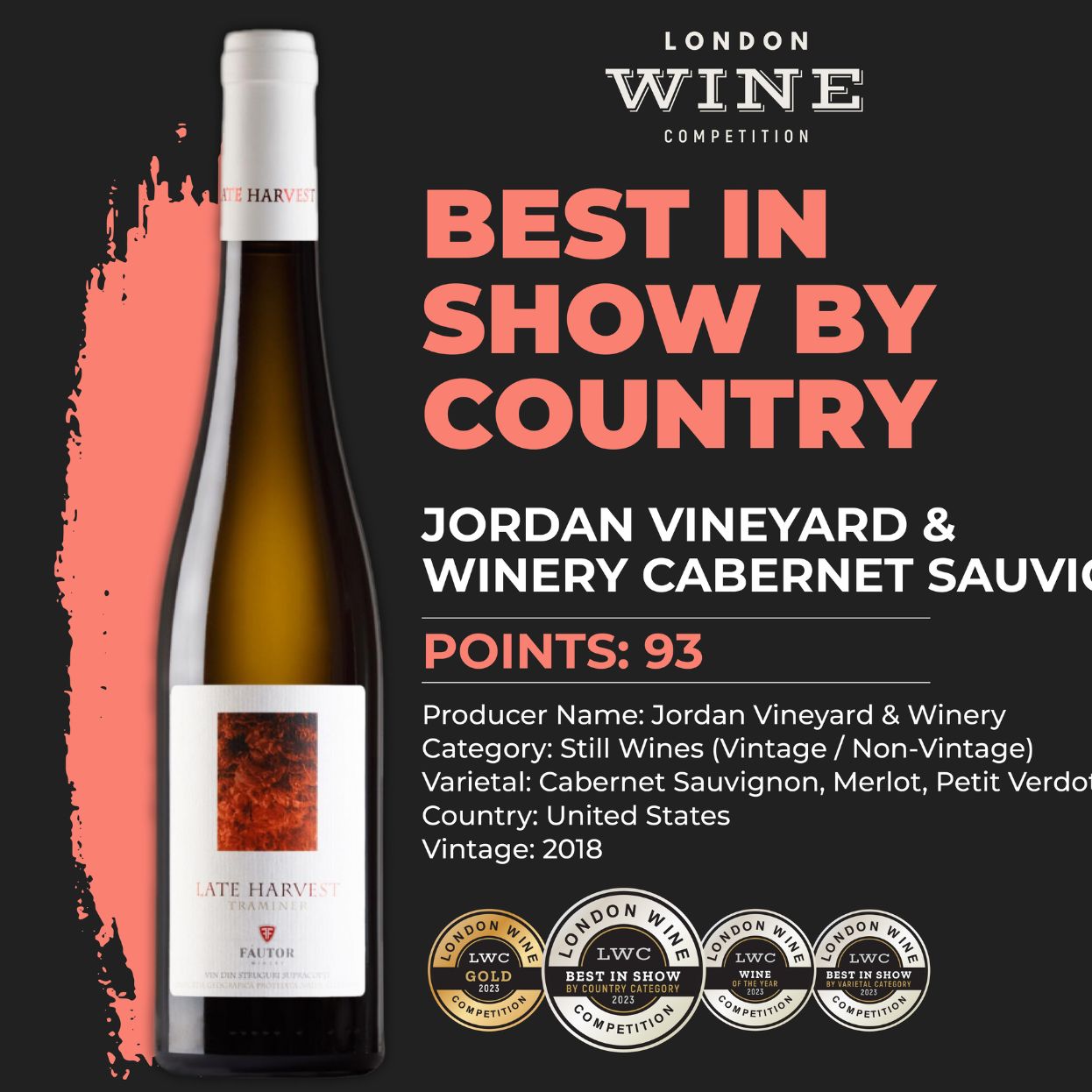 No 1: 2019 Late Harvest Traminer by Fautor SRL, Moldova.
1) Best Wine of The Year 2023: 2019 Late Harvest Traminer by Fautor SRL, Moldova.
2) Best Winery of The Year 2023: 2017 Enira Reserva by Bessa Valley Winery Ltd, Bulgaria.
3) Best Wine of The Year (by Quality) 2023: 1986 Besserat de Bellefon Reserve Collection 1986 by Champagne Besserat de Bellefon depuis 1843, France.
4) Best Wine of The Year (by Value) 2023: 2019 Late Harvest Rhein Riesling by Fautor SRL, Moldova.
5) Best Wine of The Year (by Package) 2023: 2015 Remarkable Dry Riesling by Remarkable Wines Ltd, New Zealand.
These wines won the Best Wines by the Country award:
2019 Late Harvest Traminer by Fautor SRL, Moldova.
2015 Beresford Limited Release Shiraz by Vok Beverages, Australia
1986 Besserat de Bellefon Reserve Collection by Champagne Besserat de Bellefon depuis 1843, France.
2022 Geometria by Lafazanis S.A, Greece.
2015 Remarkable 2015 Dry Riesling by Remarkable Wines Ltd, New Zealand
2018 Chiave di Saletta by Fattoria Villa Saletta Società Agricola srl, Italy.
2021 São Sebastião Reserva by Quinta de São Sebastião, Portugal
2018 Jordan Vineyard & Winery Cabernet Sauvignon by Jordan Vineyard & Winery, United States.
2021 Dillions by Dillions Vineyard, United Kingdom
2022 Migala Cuvee 25 Alb by Via Viticola, Romania
2020 Rippa Dorii Salomón by Altos de Ontañon, S.L., Spain.
2022 Salome by Wine Company Shumi Ltd, Georgia.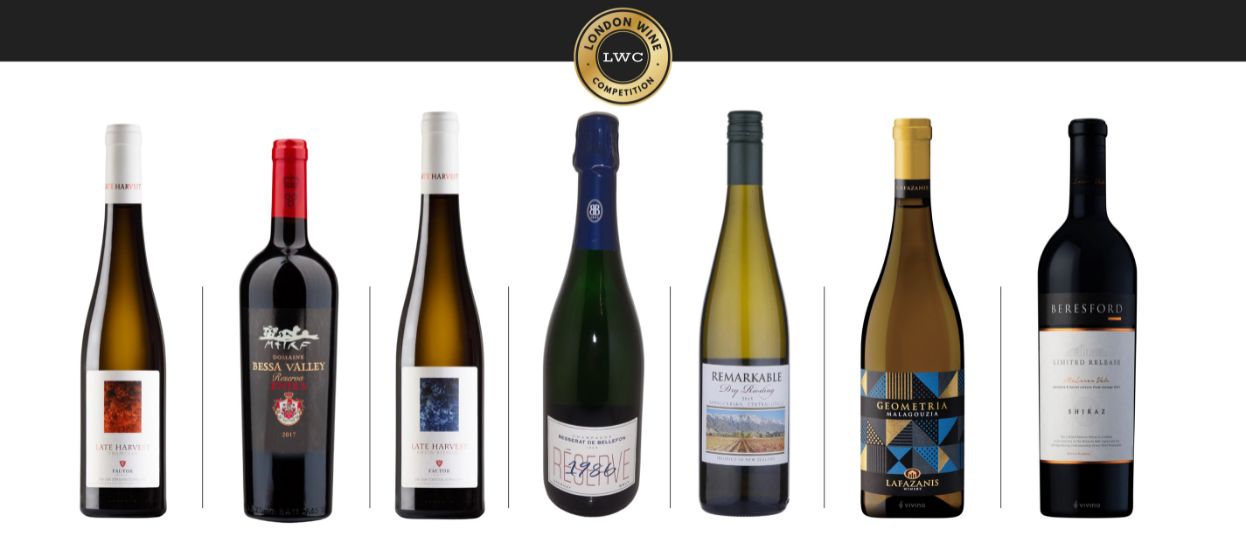 These are the awards for the Best Wines by Varietal:
Traminer: 2019 Late Harvest Traminer by Fautor SRL, Moldova.
Shiraz: 2015 Beresford Limited Release Shiraz by Vok Beverages, Australia.
Riesling: 2019 Late Harvest Rhein Riesling by Fautor SRL, Moldova.
Sauvignon Blanc: 2022 Once & Well Frankies Garden Margaret River Sauvignon Blanc by Pinnacle Drinks.
Cabernet Sauvignon: 2018 Pirramimma 2018 ACJ by Geoff Johnston Wines Pty Ltd, Australia
Pino Noir: 2021 Yealands Single Vineyard Pinot Noir by Yealands Estate Wines, New Zealand.
Chardonnay: 2021 U. Ngumby Vineyard Chardonnay by Soumah Pty Ltd, Australia.
Tempranillo: 2019 Vin'Atus by Direct Wines Production, Australia.
Merlot: 2021 Frind Estate Winery Merlot by Frind Estate Winery, Canada.
View the full list of results here.
About London Wine Competition
The London Wine Competition is an international wine competition organized by Beverage Trade Network. The competition looks to recognize, reward, and help promote wine brands that have successfully been created to tick all the boxes - quality, value, and packaging. The London Wine Competition is designed to applaud and award the wines that drinkers and wine lovers would enjoy choosing from a wine list of a restaurant or simply pick at a retail wine store. The panel of judges at the competition consists of Sommeliers, Wine Directors from some of London's finest restaurants, big chain buyers, and independent merchants that have extensive commercial buying responsibility. Learn more at www.londonwinecompetition.com.
Contact the London Wine Competition at stuti@beveragetradenetwork.com
Call us at +44 330 097 0138 | +1 302 803 4758